Roof Stain Removal Humble Texas
Did you know that Humble, Texas is home to the only remaining private factory and museum  for the Delorean Motor Company, the car made famous by it's use as a time machine in Back to the Future?  Marty McFly went from 1985 to 1955 when he became his own mother's love interest, then desperately needed to return to 1985.  When roof stains appear, it makes us wish we could climb aboard Dr. Brown's flying time machine and go "back in time" to prohibit the nasty algae from ruining the color and appearance of our roof.  While we know THAT'S  not possible, our Roof Stain Removal Humble Texas service can remove those ugly stains with our no pressure SOFT WASH cleaning solution.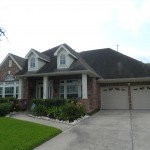 Never Pressure Clean a roof
Pressure cleaning can actually damage the roof by causing the "gritty" granular shingle particles to erode, which will shorten the lifespan of the roof itself.  The stains are caused by a wide variety of factors which include:  rain, humidity, shade, and even limestone embedded in the shingles, which feeds algae.  They are spread from one roof to another through invisible air born spores, almost like taking a ride on Marty McFly's hovercraft.  Our Soft Wash Roof cleaning process attacks the algae without attacking the shingle, or the environment.   With less pressure than a garden hose, this unique roof stain removal solution is sprayed on and immediately kills algae on contact.  Most likely, these stains will not appear again for at least three to seven years.  And, within just five to ten minutes of application, you will notice a major visual difference in the color and appearance of your Humble, Texas roof.  In Back to the Future, Marty awakens at the end to find that everything in his life had changed.  Even Biff the bully is now cooperative and obedient to George and Marty after the adventurous ride of his life on that Humble Delorean.  Let us fire one up for you and take your roof back to the future, back to it's original color and appearance, back to what it looked like before those nasty stains appeared.  When we're finished, you'll feel like taking a ride on a hovercraft!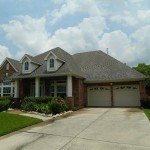 Clean and Green Solutions can be reached by calling or texting us at 2818838470.  We will be happy to discuss your Roof Stain Removal Humble Texas needs and provide you with a free quote.
We are a Certified Roof Cleaning Company with the UAMCC.